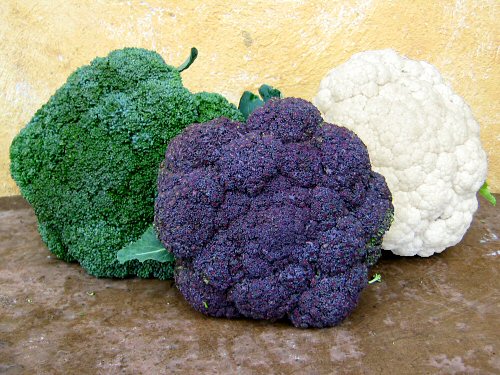 I made some of the yummiest broccoli and cauliflower last night and had to share the simple recipes I found from Southern Living. I'll be honest; I DO NOT like broccoli or cauliflower, and I REALLY liked this! Erich said,
"This is the best broccoli and cauliflower I'

ve

ever eaten."
Ava and Caroline ate it so fast, they requested seconds. OK… so here they are:
Broccoli with Garlic Butter and Cashews
Prep: 4 minutes Cook: 15 minutes

1 ½ lbs. fresh broccoli
1/3 cup butter or margarine
1 tablespoon brown sugar
3 tablespoons soy sauce
2 teaspoons white vinegar
1/4 teaspoon pepper
2 cloves garlic, minced
1/3 cup salted roasted cashews
*(I

didn

't have cashews on hand, and the recipe was still delicious)

*Remove and discard broccoli leaves and tough ends of stalks; cut broccoli into spears. Cook in a small amount of boiling water 8 minutes or until crisp-tender. Drain well. Arrange broccoli on a serving platter. Set aside, and keep warm.

*Melt butter in a small skillet over medium heat; add brown sugar and next 4 ingredients. Bring to a boil; remove from heat. Stir in cashews. Pour sauce over broccoli, and serve immediately.
Yield: 6 servings, Calories 168, Fat 13.8g, Cholesterol 28mg, Sodium 688 mg


Cauliflower with Herb Butter

Prep: 10 minutes Cook: 10 minutes





1 large cauliflower
Juice from 1 lemon
1/3 cup butter or margarine, melted
1 tablespoon chopped fresh parsley
1 tablespoon chopped fresh basil or ¼ teaspoon dried basil
1/4 teaspoon salt
1 clove garlic, crushed

*Remove large outer leaves of cauliflower. Break cauliflower into

flowerets

. Cover and cook in a small amount of boiling water 8 to 10 minutes or until tender; drain. Arrange

flowerets

in a serving dish and sprinkle with lemon juice.


*Combine butter and next 4 ingredients; pour herb butter over

flowerets

. Enjoy! :)


Yield: 6 servings, Calories 115, Fat 10.4 g, Cholesterol 28mg, Sodium 229mg